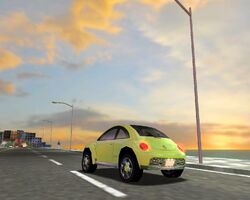 "Want to take the New Beetle off-road? The New Beetle Dune's air suspension will give you the improved durability that you'll need." - In-game description.
The Volkswagen New Beetle Dune is a standard car. It is one of the trio of VW New Beetles featured in the game, it being the most suited for offroad driving. In HQTM Team's Classic Madness mod, it is replaced by the Triumph Thunderbird motorcycle.
How to Unlock
Edit
The Volkswagen New Beetle Dune is unlocked through completing 5 San Francisco Circuit races with a position 3rd or higher.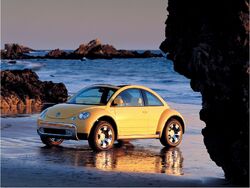 The Volkswagen  New Beetle Dune concept car was unveiled in 2000, as a possible off-road model, but was never put into production. However, since the introduction of the Volkswagen Beetle (A5), a dune model has also been introduced and is believed to enter production in 2016.
Top Speed: 137 mph
Horsepower: 150bhp
Mass: 2833 lbs
Durability: Low
Available Colours
Edit
Green
Yellow
Blue
Purple
Meow (unlocked through victory in all San Francisco Circuit races)
Matamow Cup (originally cut from the game, but made available through use of MM2 Revisited)
It is the only generic car that isn't driven by any of the opponents in any of the races.
The Volkswagen New Beetle Dune along with the Audi TT and the American LaFrance Fire Truck all have an animal print paint job.
Ad blocker interference detected!
Wikia is a free-to-use site that makes money from advertising. We have a modified experience for viewers using ad blockers

Wikia is not accessible if you've made further modifications. Remove the custom ad blocker rule(s) and the page will load as expected.