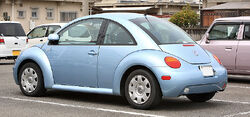 The
Volkswagen New Beetle
is a compact car, introduced by Volkswagen in 1997, drawing heavy inspiration from the exterior design of the original Beetle. Unlike the original Beetle, the New Beetle has its engine in the front, driving the front wheels, with luggage storage in the rear. Many special editions have been released, such as the Malibu Barbie New Beetle. In May 2010, Volkswagen announced that production of the current body of the New Beetle would cease in 2011.
In 2011 for the 2012 model-year, a new Beetle model, the Beetle (A5), replaced the New Beetle. It is often referred to as the New Beetle as well.
Midtown Madness 2
Edit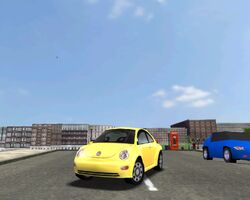 "Cute, fast, and able to whip through traffic with ease. But be careful of its limited durability!"
-
In-Game Description
The VW New Beetle is a standard car which is unlocked by default, like in Midtown Madness 1. It serves as a base model for two other default VW New Beetle models, the VW New Beetle RSi and VW New Beetle Dune (which are unlockable). In HQTM Team's Classic Madness mod, it was replaced by the original Volkswagen Beetle.
Performance
Edit
As a generic car, the VW New Beetle is one of the weakest performing cars in the game. It can be competitive early on in the game, however in later races, where vehicles are faster and more powerful, the New Beetle will struggle to keep up, so switching to a faster car is strongly advisable.
Top Speed: 116 mph
Horsepower: 115 bhp
Mass: 2,833 lbs
Durability: Low
Available Colours
Edit
Silver, blue and red New Beetles don't have wing mirrors, only yellow New Beetles do.
The New Beetle has new engine sound effects in Midtown Madness 2. However, the original engine sound effect can be reused by modding the game.
This was the only European car to be featured in the original Midtown Madness. Nevertheless, it is a US-spec New Beetle, as evidenced by the square numberplate groove on the rear bumper and the left hand drive dashboard view.
If one looks closely at the rear wheels when steering, they turn a little bit. This also can be noticed with the Audi TT, the New Beetle RSi and the New Beetle Dune.