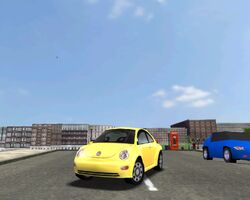 The VW New Beetle is a standard car. It is unlocked by default, like in Midtown Madness 1. It serves as a base model for two other default VW New Beetle models, the VW New Beetle RSi and VW New Beetle Dune (which are unlockable). In HQTM Team's Classic Madness mod, it was replaced by the original Volkswagen Beetle.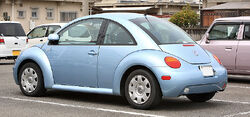 The Volkswagen Beetle began life in 1938, when Dr Ferdinand Porsche designed the Typ 1 KdF-Wagen for the German population. It was intended to be such a huge revolution in engineering, that it had its own town, Stadt des KdF-Wagens (now Wolfsburg), named after it. Unfortunately, the dawn of World War II led to the KdF-Wagen's factory to be used to produce the military Typ 82 Kübelwagen and Typ 166 Schwimmwagen. However after WWII, the Typ 1 resumed production under the new name, Volkswagen. Following the war, the "Volkswagen Beetle" as fans called it (due to its visual similarities to a beetle) became an international pheonomenon, quickly becoming one of the world's most popular cars of all time, and inspired the iconic Porsche 356. In 1967, it recieved a facelift, but fell in popularity, due to its aging design. In 1978, mainstream production of the Beetle ceased in Germany, but small factories in Brazil and Mexico carried on producing Beetles until 2003, when production of the Typ 1 ceased entirely. In 1997, Volkswagen Germany decided to revive the Beetle, creating the VW New Beetle. It was larger and more spacious than its predecessor, in order to keep up with modern rivals. In 2001, the VW New Beetle RSi was introduced as the performance model, while the VW New Beetle Dune concept car was unveiled in 2000, as a possible off-road model, but was never put into production. In 2011, the New Beetle recieved a facelift and is still on sale today.
In-Game Description
Edit
Cute, fast, and able to whip through traffic with ease. But be careful of its limited durability!
Top Speed: 116 mph
Horsepower: 115 bhp
Mass: 2833 lbs
Durability: Low
Available Colours
Edit
In real life, silver, blue and red New Beetles don't having wing mirrors, only yellow New Beetles do.
The New Beetle has new engine sound effects in Midtown Madness 2. However, the original engine sound effect can be used again by modding the game.
This was the only European car to be featured in the original Midtown Madness.
This was one of the only three player-driven vehicles to be featured in the trial version of Midtown Madness 1, along with the Ford Mustang GT and the City Bus. This car was also featured in the "Volkswagen Trial" version of MM1, which only includes this vehicle.
If one looks closely at the rear wheels when steering, they turn in opposition to the front wheels. This also can be noticed with the Audi TT, the New Beetle RSi and the New Beetle Dune.