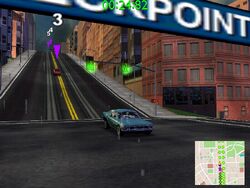 The San Francisco Race Mod is a mod that adds 32 new races to San Francisco. A new city (dubbed San Francisco Racemod) is added into the game. It's the same city as the normal/default San Francisco, but with the new races. You can download the mod from Midtown Madness Archive. [1]
The mod also speeds up the traffic vehicles (only in the new city). It also adds vehicles that were never used in the default races to the AI opponents, like the Ford Mustang Cruiser, the Light Tactical Vehicle and the VW New Beetle Dune, but the Freightliner Century, the City Bus, the Double-Decker Bus, and the American LaFrance Fire Truck, which are slow vehicles, are not included in this mod as opponents. Races included with the mod are:
Blitz:

Checkpoint:

Circuit:
Ad blocker interference detected!
Wikia is a free-to-use site that makes money from advertising. We have a modified experience for viewers using ad blockers

Wikia is not accessible if you've made further modifications. Remove the custom ad blocker rule(s) and the page will load as expected.