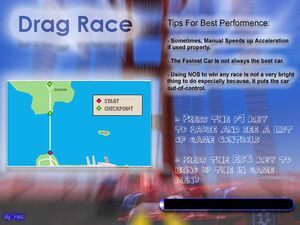 The "San Francisco Pro Dragracing Mod" is the oldest fan-made mod (not including new cities or cars) uploaded to Midtown Madness 2 eXtreme. It was uploaded on May 15, 2003, by a user: Hez. This mod adds a simple drag race to San Francisco across the Goldon Gate Bridge. Like other Checkpoint events, you can change the weather, traffic levels and number of opponents. There are also some police cars, which can be added to the race, including some parked on the tunnel to Marin County.
Ad blocker interference detected!
Wikia is a free-to-use site that makes money from advertising. We have a modified experience for viewers using ad blockers

Wikia is not accessible if you've made further modifications. Remove the custom ad blocker rule(s) and the page will load as expected.