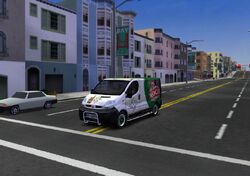 The Renault Trafic is an add-on van availible for download at
Midtown Madness 2 eXtreme
[1]
. It has been downloaded close to 27,000 times, and was uploaded by
HQTM Team
on October 30th 2005.
The van features a very precise, scratch-made model with transparent windows, 3D interior, damage textures, breakable parts, seven different paint jobs, asymmetric light beam, 2D dashboard with night version, fitted sounds, and realistic performances.
The Renault Trafic is a series of vans created by Renault since 1981. The first-generation Trafic lasted from 1981 till 2000, and the second-generation Trafic has been availible since 2001, but will cease production in 2013. From 1997, the first-generation Trafics were also sold as Chevrolet Trafic, Opel Arena, and Vauxhall Arena. The second-generation Trafic resulted from a joint venture between Opel, Nissan, and Renault, and recieved a mild facelift in 2006, which saw the orange indicators swapped for clear ones more integrated into the headlamp housings. The 2nd generation Trafic was also available as the Nissan Primastar, Opel Vivaro and Vauxhall Vivaro.
Top Speed: 127 mph
Horsepower: 115 bhp
Mass: 3699 lbs
Durability: High
Availible Colours
Edit
MasterLink
DHL
Kolporter
FedEx
Okocim
Policja
ZW
The following are add-on colours, that can be downloaded from HQTM Team's website, and put into the game using MM2 Car Skin Changer:
HQTM Team (additional)
MM2 Anniversary (additional)
PTM (by G0sku)
Orange Sport (by Carboy717)
Ambulance Quebec (by Jimmy Renaud)
Ochrona Juwentus (by Paul167)
AS Fireworks (by Paul167)
Steel (by Frost)
Politie (by Paul167)
UPS (by Viper)
HEIX (by Dziki)
Euro NCAP (by Frost)
KCP Tuning (by Frost)
Ambulans (by Frost)
ADAC (by Dziki)
Coca-Cola (by Paul167)
Mixtape Tour (by Dziki)
Media Markt (by Dziki)
Pan-Ostan (by Dziki)
Poczta Polska (by Paul167)
Light Blue (by Paul167)
Matrix (by Dziki)
Torino 2006 (by Frost)
PTM (by Viper)
Custom Cycles (by Dziki)
Parcel Force (by Frost)
Automobile Associ (by Dziki)
DPD (by Paul167)
Solid Security (by Paul167)
Ad blocker interference detected!
Wikia is a free-to-use site that makes money from advertising. We have a modified experience for viewers using ad blockers

Wikia is not accessible if you've made further modifications. Remove the custom ad blocker rule(s) and the page will load as expected.