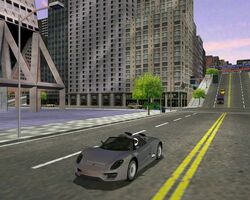 The Porsche 918 Spyder is an add-on car availible for download on
Midtown Madness 2 eXtreme
[1]
. It has been downloaded over 1,000 times, and was uploaded by
Midtown Madness 2 Riva
on June 15th 2011.
The car features a very detailed model converted from the one used on Need for Speed: Hot Pursuit, with a very good dashboard, realistic tuning, new sounds, one colour, and damages without effects.
The Porsche 918 Spyder is a limited production supercar announced by Porsche to be produced in the near future. It was first shown as a concept at the 80th Geneva Motor Show in March 2010. The car is the first plug-in hybrid from Porsche. It is powered by a V8 engine using "only" 3.4 litres, however it produces 500bhp - and three electric motors can bring the power up to 718bhp. Two electric motors drive the front wheels directly through a fixed ratio while a third electric motor is connected to the transmission and gives additional power to the rear wheels. This gives the 918 Spyder a top speed of over 200mph. The 918 RSR, a racing variant, was unveiled at the 2011 Auto Show by Porsche. The 918 RSR's V8 is a further development of the direct injection engine from the RS Spyder race car developing 563bhp. The electric motors on the two front wheels each provide an additional 102bhp giving a peak power output of 767bhp.
Top Speed: 200 mph
Horsepower: 718 bhp
Mass: 3300 lbs
Durability: Low
Availible Colours
Edit
Ad blocker interference detected!
Wikia is a free-to-use site that makes money from advertising. We have a modified experience for viewers using ad blockers

Wikia is not accessible if you've made further modifications. Remove the custom ad blocker rule(s) and the page will load as expected.