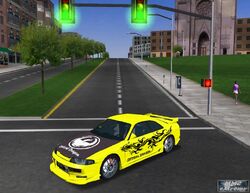 The Nissan Skyline BNR33 BomeX is an add-on car availible for download at Midtown Madness 2 eXtreme.
[1]
It has been downloaded over 12,000 times, and was uploaded by Nitrolancer X on May 3rd, 2003.
The car has a good-looking 3D model with an accurate BomeX bodykit, semi-transparent windows, OZ F1 Cup wheels, a 3D interior, high resolution textures with four paint jobs, scratch-made sounds and a very realistic tuning.
The Nissan Skyline GT-R is a Japanese sports car produced by Nissan. The first GT-Rs were produced from 1969 till 1973. After cancelling the second-generation Skyline GT-R, Nissan revived the line with a third-generation model in 1989. This generation lasted until 1995, when the fourth-generation GT-R was created (known as the BNR33). This wasn't as popular as the third-generation model, and lasted until 1998. The fifth-generation GT-R (known as the
BNR34
) lasted from 1999 till 2002 - following the end of R34 production, Nissan announced their plans to separate the GT-R model from the Skyline name, creating an entirely new vehicle although it would be loosely based on the same platform as the Skyline. This new car, now known simply as the Nissan GT-R, debuted in 2007 in Tokyo. Released to the consumers in 2008, it was the first GT-R available worldwide, entering the North American market for the first time.
Top Speed: 234 mph
Horsepower: 700 bhp
Mass: 3064 lbs
Durability: Very Low
Availible Colours
Edit
BomeX Dragon Special
BomeX Dark Red
BomeX Clean White
BomeX KITT Black
Ad blocker interference detected!
Wikia is a free-to-use site that makes money from advertising. We have a modified experience for viewers using ad blockers

Wikia is not accessible if you've made further modifications. Remove the custom ad blocker rule(s) and the page will load as expected.