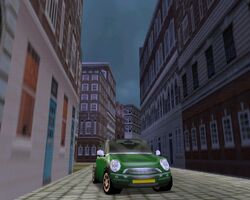 The New Mini Cooper (stylized as NEW MINI COOPER in the game's vehicle selection screen) is a standard car, unlocked by completing 5 London Blitz events. In Midtown Madness 2, it is significantly smaller than its real-life counterpart, and uses a particularly poor model. Also, it is actually slightly smaller than its predecessor, the Mini Cooper Classic. This car also makes an appearance in Midtown Madness 3 as the Cooper S model. In HQTM Team's Classic Madness mod, it is replaced with the French Citroën 2CV.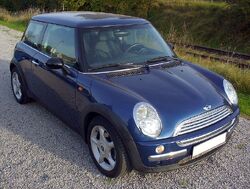 The Mini began life as BMC's Austin Seven and
Morris Mini Minor
(Austin/Morris 850 in the US) designed by Sir Alec Issigonis in 1959. In 1961, the Seven was rebranded as the Austin Mini (with the Morris Mini following shortly afterwards), and a legend was born. In the same year, BMC started work on the Austin/Morris Mini Cooper (on which the
Mini Cooper Classic
is based), a performance model that featured a larger engine. In 1963, the Mini Cooper S was developed, a racing version that went on to win many rallies, notably the Monte Carlo rally, which it won a total of 3 times, between 1964 and 1967. In 1969, the Austin and Morris names were dropped, forming the Mini marque.
In the 1980s, Rover took over the Mini's production from BMC, but it wasn't until 2000 that the car was dropped completely. In 2000, BMW bought the rights to the Mini name and in 2001, started production on the New Mini Cooper and Mini One, which was much larger and spacious than its predecessor in order to keep up with modern competitors. In 2007, this recieved a facelift, before the introduction of the Clubman estate car and Countryman SUV in 2008 and 2010 respectively.
In-Game Description
Edit
Like its predecessor, the New Mini Cooper is great for weaving in and out of traffic, around pedestrians, and down sidewalks!
Top Speed: 131 mph
Horsepower: 115 bhp
Mass: 2304 lbs
Durability: Low
This is one of the two LHD cars to be unlocked in London, alongside the Panoz GTR-1, despite the fact that this car has British-styled license plates. However, a mod for an RHD dashboard view for this car has been made by Sajmon14.
On the vehicle selection screen, all the letters in the name of this car are capitalized.
In the early beta versions of MM2, this car had two fog lights on its grill, but for unknown reasons, they were cut from the game's final release.
Available Colours
Edit
British Racing Green
Sienna Gold
Laser Blue
Tech Silver
Eden Green (originally cut from the game, but made available through use of MM2 Revisited)
Fire Red (originally cut from the game, but made available through use of MM2 Revisited)
Dolo Blue (originally cut from the game, but made available through use of MM2 Revisited)
Black (originally cut from the game, but made available through use of MM2 Revisited)