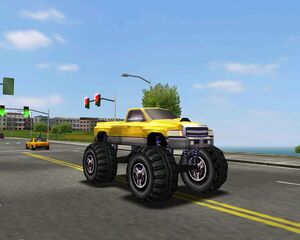 The Monster Truck is an add-on truck available with MM2 Revisited V5. This truck was originally supposed to be included with the first Midtown Madness game, but was cut due to unknown reasons. It is rumored that this Monster Truck was the vehicle that was included in the original Angel Studios "Truck Demo" game. The files for the Monster Truck are included inside the .ar file for the Midtown Madness Demo, but are removed in the full version of the game. It is based on a second generation Dodge Ram Monster Truck. You can still drive it in the original Midtown Madness, with the help of the MM1 Revisited V3 mod.
In the first game, the truck uses an engine sound effect of its own, but in MM2 Revisited V5, the engine sound effects are from Monster Truck Madness 2.
The Ram (formerly the Dodge Ram) is a full-size pickup truck manufactured by the Chrysler Group LLC. As of late 2010, it has been sold under the Ram Trucks brand. Previously, Ram was part of the Dodge lineup of light trucks. The name Ram was first used in 1981 on the redesigned Ram and Power Ram following the retiring and rebadging of the Dodge D Series pickup trucks as well as B-series vans. The truck is named for the Ram hood ornament that first appeared on Dodge vehicles in 1933. The Ram Truck is in its fourth generation as of the 2009 model year.
In-Game Description
Edit
Not exactly fast, but the high durability and size of this truck make it a great vehicle for rough situations.
Top Speed: 98 mph
Horsepower: N/A
Mass: N/A
Durability: High
Available Colors
Edit