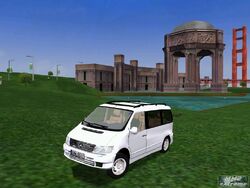 The Mercedes-Benz Vito is an add-on van availible for download at
Midtown Madness 2 eXtreme
[1]
. It was uploaded by user R2r on May 3rd 2003, and has been downloaded over 19,000 times.
The car features a scratch-made model with a 3D engine, semi-transparent windows, damage textures, breakable parts, 10 different paint jobs, a realistic interior, realistic sounds, a dashboard and a very realistic performance.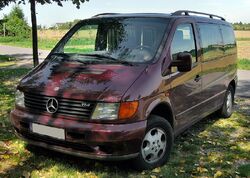 The Mercedes-Benz Vito is a light van produced by Mercedes-Benz since 1996. The first-generation Vito (W638) lasted until 2003, and could be powered by either a diesel engine (up to 120 bhp) or a gasoline engine (up to 140 bhp). It also had a front-wheel drive drivetrain. The second-generation Vito (W639) has been in production since 2003. Additionaly, in August 2008 a variant of the Vito was approved for use as a liscensed
London 'black cab'
, with seating for six people.
Top Speed: 103 mph
Horsepower: 140 bhp
Mass: 3682 lbs
Durability: High
Availible Colours
Edit
Blue Metallic
Silver Metallic
White
Cherry
Dark Green
Dark Blue
Dark Cherry
Blue
Dark Green 2
Green
Ad blocker interference detected!
Wikia is a free-to-use site that makes money from advertising. We have a modified experience for viewers using ad blockers

Wikia is not accessible if you've made further modifications. Remove the custom ad blocker rule(s) and the page will load as expected.