The Mercedes-Benz SLS AMG is an add-on car availible for download on
Midtown Madness 2 eXtreme
[1]
. It has been downloaded over 5,000 times and was uploaded by
Midtown Madness 2 Riva
on December 24th 2010.
The car features a detailed 3D model, converted from Forza Motorsport 3 with great textures, a very good dashboard, realistic tuning and sounds, nine different paint jobs, and damages without effects.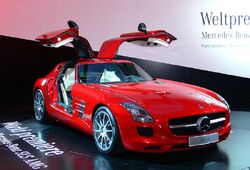 The Mercedes-Benz SLS AMG was introduced in 2010, as the successor to the Mercedes-Benz SLR McLaren, but described by Mercedes-Benz spiritual successor to the legendary
Mercedes-Benz 300 SL Gullwing
of the 1950s. Marking the return of gullwing doors, it now boasts a a V8 engine producing 563bhp, and a top speed of 198mph, making it comparable to the
Porsche 911 Turbo
,
Ferrari 458 Italia
, and more. Also, it uses a rear spoiler which pops up at speeds of around 75mph for stability and handling, and when braking. At least four different versions of the SLS AMG has been released: the SLS AMG GT3 racecar, SLS AMG "Blackbird", SLS AMG E-Cell, and a Roadster version. Mercedes-Benz have also announced a Black Series version of the car. The Mercedes-Benz SLS AMG is used for the safety car in Formula 1 racing since 2011 (the 2010 safety car was the
Audi TT
RS).
Top Speed: 198 mph
Horsepower: 563 bhp
Mass: 3600 lbs
Durability: Medium
Availible Colours
Edit
Alubeam
Daytona
Imola
Magno Monza
Iridium
Le Mans
Obsidian
Mystic II
Sand
Ad blocker interference detected!
Wikia is a free-to-use site that makes money from advertising. We have a modified experience for viewers using ad blockers

Wikia is not accessible if you've made further modifications. Remove the custom ad blocker rule(s) and the page will load as expected.