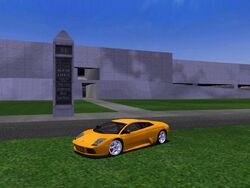 The Lamborghini Murcielago is an add-on car availible for download on
Midtown Madness 2 eXtreme
[1]
. It is a popular car, with over 25,000 downloads, and was uploaded by
HQTM Team
on December 7th 2003.
The car features a detailed model with semi-transparent windows, 3D wheels, damage textures, breakable parts, seven different paint jobs, shadows, a realistic interior, realistic sounds, and a very realistic performance.
The car does not have a dashboard, but a 2D dashboard with a night version was later released on HQTM Team's website, availible for download. Additionaly, a police car version was also released on the same website.
The Lamborghini Murcielago was introduced in 2001 as the successor to the
Lamborghini Diablo
, and the first car made after Audi bought out Lamborghini in 1998. It used with a 6.2-litre V12 engine allowing the car to reach 205mph, while producing 572bhp. A roadster version followed, then in 2005, the Murcielago LP640 was created - with a bigger 6.5-litre engine increasing the power to 631bhp, and letting the car reach 211mph. Like the first Murcielago, a roadster version of the LP640 appeared, as well as a limited edition LP650-4 roadster. In 2010, the Murcielago was updated again to the LP670-4 SuperVeloce (SV). The SV name hadn't been used since the Diablo SV in 1999. This car increased the power to 641bhp, so the car could reach 213mph (209mph with the optional Aeropack Wing). The limited-edition Lamborghini Reventon is based on the Murcielago LP640. Production of the Murcielago ended in November 2010, to be replaced by the Aventador in 2011, which uses a brand new Lamborghini V12 engine.
Top Speed: 205 mph
Horsepower: 572 bhp
Mass: 3638 lbs
Durability: Very Low
Availible Colours
Edit
Yellow
Orange
Fluo Green
Red
Ocean Blue
Pink
Silver
Black
Grey
The following are add-on colours, that can be downloaded from HQTM Team's website, and put into the game using MM2 Car Skin Changer:
Blue Comet (by Paul167)
Black Fire (by Dziki)
Fuchs Racing (by Dziki)
Police car version
Edit
HQTM Team have released a police car version of the Lamborghini Murcielago. The tuning, sounds, and downloadable dashboard are taken straight from the normal version, but as a police car, it has working sirens (with addonvehtypes.ar). Also, there are two paint jobs: Highway Patrol (based on the SFPD paint job), and Polizei.
Ad blocker interference detected!
Wikia is a free-to-use site that makes money from advertising. We have a modified experience for viewers using ad blockers

Wikia is not accessible if you've made further modifications. Remove the custom ad blocker rule(s) and the page will load as expected.