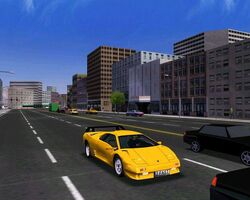 The Lamborghini Diablo is an add-on car availible for download at
Midtown Madness 2 eXtreme
[1]
. It was uploaded by user R2r on August 20th, 2008, and has been downloaded over 3,000 times.
The car features a scratch-made model with semi-transparent windows, damage textures, breakable parts (including a breakable engine cover), eight different paint jobs, a realistic interior, realistic sounds, a dashboard, and a very realistic performance.
In 1990, the Lamborghini Diablo - successor to the legendary Lamborghini Countach - started production, with a model with a 5.7-litre V12 producing 485bhp, and letting the Diablo reach 202mph - making it not only the first Lamborghini to reach 200mph, but also the fastest car in the world for a year. In 1993, the Diablo VT was introduced, which used four-wheel drive. 1994 saw the SE30 and SE30 Jota appear - the latter could reach 207mph, and produced as much as 595bhp. The Diablo SV appeared in 1995, reviving the Super Veloce name first used on the 1970 Miura SV, and during that same year, a roadster version of the Diablo VT was made. Lamborghini facelifted the Diablo in 1999 (after Audi bought out the company), with another SV model and new VT and VT Roadster models. There was also the Diablo GT, an upgraded SE30 Jota, and finally the VT 6.0. The last Diablo produced was the VT 6.0 SE, made just before the car was replaced with the
Lamborghini Murciélago
.
Top Speed: 207 mph
Horsepower: 485 bhp
Mass: 3470 lbs
Durability: Very Low
Availible Colours
Edit
Orange
Black
Blue
Yellow
Cherry
Red
Green
White
The song that is played when the Lamborghini Diablo is selected is the intro of 'I Disappear' which is a song by Metallica that was written for the Mission Impossible 2 Soundtrack.
Ad blocker interference detected!
Wikia is a free-to-use site that makes money from advertising. We have a modified experience for viewers using ad blockers

Wikia is not accessible if you've made further modifications. Remove the custom ad blocker rule(s) and the page will load as expected.