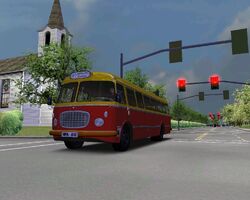 The Jelcz MEX 272 is a bus released in
HQTM Team
's
Classic Madness
mod. It replaces the standard
City Bus
with a high-detail render of a classic European "cucumber" bus. It is one of two Polish vehicles in the mod (HQTM is based in Poland), along with the
Syrena Sport
.
When the Polish government required a new public transport system in the early 1960s, Jelcz developed the MEX 272, using the Škoda 706 RTO MEX as its basis. The vehicle went into service in 1963 and lasted till 1977, when production ceased. Despite their large production volumes, only 3 survive today.
Top Speed: 47 mph
Horsepower: 450 bhp
Mass: 19180 lbs
Durability: Very High
Available Colours
Edit
banana Red 0
Blue PKS
White Zajezdnia
Grenn Wycieczka
Ad blocker interference detected!
Wikia is a free-to-use site that makes money from advertising. We have a modified experience for viewers using ad blockers

Wikia is not accessible if you've made further modifications. Remove the custom ad blocker rule(s) and the page will load as expected.