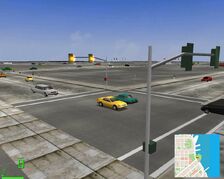 j01: Son of Sleazy is an early test-bed used to test traffic and pedestrians. It has asphalt, lots of roads, intersections, and road objects used in San Francisco. The traffic vehicles were reused from San Francisco. However, unlike the default MM2 cities with traffic and pedestrians made by Angel Studios, this one has no cops available. The map was reused from an early beta version of San Francisco, and it was possibly used to test a map for Midtown Madness 2. It happens to be the largest early test-bed of all. You can still use it, with the help of MM2 Revisited V5, although it can be buggy at times and sometimes crashes the game.
Ad blocker interference detected!
Wikia is a free-to-use site that makes money from advertising. We have a modified experience for viewers using ad blockers

Wikia is not accessible if you've made further modifications. Remove the custom ad blocker rule(s) and the page will load as expected.