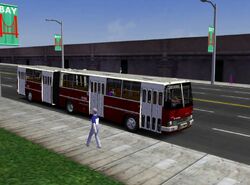 The Ikarus 280 is an add-on bus availible for download at
Midtown Madness 2 eXtreme
[1]
. It is
HQTM Team
's second most popular vehicle on the site (behind the
Freightliner FLD 120 Classic XL
), with over 30,000 downloads since it was uploaded July 23rd 2005.
This bendy-bus (which uses a similar trailer system to the American LaFrance Fire Truck) features a very precise, scratch-made model, using with two versions: with and without automatic doors you see during gameplay. Both versions have animated wipers (in the rain), 2D dashboard, news sound, damage textures, five paint jobs, and realistic tuning.
Ikarus have been producing buses since they were founded in 1895. By 1913, the company mainly focused on creating cars and due to increased sales, it made great profits. In 1927, Ikarus had won an international tender and it was this year that large scale production could begin by delivering 60 shuttle buses. On 23rd February 1949, Ikarus was officially established when it merged with airplane manufacturer Ikarus Gép és Fémgyár Rt. In 1955 and 1956 with the new front engine models (Ikarus 620, 630 and 31) the company's foreign sales were boosted and China, Burma and Egypt started using them in several of their cities. By 1962, Ikarus delivered 8,000 buses abroad and in 1970 it won second place at an expo in Monaco showing its prominence in Europe. In 1971, over 100,000 buses were manufactured and sales increased year-by-year. By 1973, Ikarus became the world's fourth largest manufacturer, but lacking raw materials, orders were not delivered in time on several occasions. From 1999, the company was owned by Irisbus, a French-Italian investing group. In 2006, Irisbus sold Ikarus Bus to Hungary's Műszertechnika group for the full asking price. In 2010 a new Ikarus V187 and other standard, and articulated models are introduced to the press and publicly tested on BKV lines.
Top Speed: 57 mph
Horsepower: 192 bhp
Mass: 49604 lbs
Durability: Very High
Availible Colours
Edit
Niebieski
Czerwony
Dezel
Blaupunkt
Ruda Slaska
The following are add-on colours, that can be downloaded from HQTM Team's website, and put into the game using MM2 Car Skin Changer:
Katowice (additional)
Minsk (additional)
Olkusz (additional)
Walbrzych (additional)
Warszawa (additional)
Sokul Zabrze (by Mickul)
PUP Czeladz l.22 (by Robson)
PKM Gliwice l.87 (by Robson)
MPK Krakow (by Robson)
Sokul Zabrze II (by Mickul)
Swierklaniec (by Paul167 & Mickul)
MPK Nowy Sacz 23 (by SkOdAmAnIaK)
2199 MPK Lodz (by nero)
SPA Dabie Linia 7 (by nero)
PKM Swierklaniec (by Paul167)
Bielsko-Biata (by Paul167)
Bytom (by Paul167)
Mosgortrans (by Paul167)
PKS Gliwice (by Paul167)
KM Ptock (by Paul167)
PKM Katowice (by Paul167)
PKM Tychy (by Paul167)
Transkom Piekary (by Paul167)
Henzago Ruda Sl. (by Paul167)
Cottbus (by Paul167)
Zielona Gora (by Paul167)
PKM Sosnowiec (by Paul167)
PKM Jaworzona (by Paul167)
MPK Poznan (by Paul167)
Ad blocker interference detected!
Wikia is a free-to-use site that makes money from advertising. We have a modified experience for viewers using ad blockers

Wikia is not accessible if you've made further modifications. Remove the custom ad blocker rule(s) and the page will load as expected.