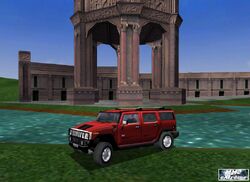 The Hummer H2 is an add-on car availible for download on
Midtown Madness 2 eXtreme
.
[1]
It is popular, with over 26,000 downloads, and was uploaded by
HQTM Team
on April 3rd 2003, making it one of their first vehicles.
It features a very precise, scratch-made model, with transparent windows, 3D wheels, damage textures, breakable parts, eight different paint jobs, a realistic interior, realistic sounds, 2D dashboard with night version, and a great performance.
A low-poly version was released as an addon to HQTM's Traffic Mod, which replaced the Hummer H1 usually included in the mod.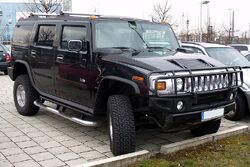 The
High Mobility Multipurpose Wheeled Vehicle (HMMWV)
, more commonly known as the Humvee, began service in the US Armed Forces in 1984, ever since the use of civilian trucks was deemed unfit for purpose. Since then, the Humvee has seen battle in multiple warzones, under multiple governments and is still used to this date. In 1992, AM General started producing civilian Humvee's under the Hummer name, with their first model, the H1 (also the closest relative to the original Humvee), stayed in production from the firm's genesis to a limited production run 2006. In 1999, General Motors bought the rights to the Hummer marque and in 2002, the Hummer H2 was released. The H2 was an entirely new vehicle, yet was still based remotely on the Humvee's styling, that stayed in production till 2009. The H3 was introduced in 2005, which was essentially a down-sized H2, and lasted to the company's end in 2010, when GM became bankrupt, just as their vehicles are no longer sold.
Top Speed: 99 mph
Horsepower: 316 bhp
Mass: 6614 lbs
Durability: High
Availible Colors
Edit
Sunset Orange
Yellow
Pewter
Sage Green
White
Red
Black
HQTM Orange
The following are add-on colours, that can be downloaded from HQTM Team's website, and put into the game using MM2 Car Skin Changer :
Off-road Orange (by Carboy717)
American Red Cross (by Paul167)
Sunset Orange (by Paul167)