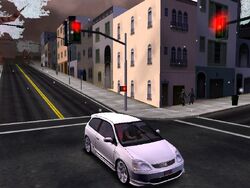 The Honda Civic Type-R is an add-on car availible for download at
Midtown Madness 2 eXtreme
[1]
. It has been downloaded close to 20,000 times and was uploaded by
HQTM Team
on July 17th, 2004.
The car features a realistic, scratch-made model with realistic sounds, smooth handling with a realistic performance, damage textures, breakable parts, a 2D dashboard with night version, animated wipers (in the rain), six different paint jobs and more.
The Honda Civic Type-R is the highest performance version of the Honda Civic, created by Honda Motor Company of Japan. With the release of the first-generation EK9 chassis, the car started production in 1996. It was a 3-door hatchback style car, and was sold in huge numbers across the globe due to its relatively low cost, and everyday usable street performance/drivability. In 2001, the second-generation EP3 chassis was created. It kept the 3-door hatchback style but was manufactured in Swindon, England, and became as popular as the first-generation CTR. The third-generation FD2/FN2 chassis was created in 2007. The FD2 used a 4-door sedan style, but the FN2 continued the 3-door hatchback style usage. The Honda Civic Type-R lasted until 2010.
Top Speed: 146 mph
Horsepower: 212 bhp
Mass: 2741 lbs
Durability: Medium
Availible Colours
Edit
Silver
Black
Red
White
HQTM Orange
The following are add-on colours, that can be downloaded from HQTM Team's website, and put into the game using MM2 Car Skin Changer:
Blue (additional)
Green (additional)
Grey (additional)
Sport (additional)
Yellow (additional)
Blue Chameleon (by Maluch_maniac)
Carbon (by Carboy717)
Sokul (by Mickul)
Plus GSM CooL G. (by Kisiel)
Gold (by Znag)
Wtk Anwil Car (by Znag)
Purple Orange (by Mysza)
Yellow Black IDEA (by Mysza)
Various Blue (by Mysza)
Electro-Shock (by Cihan Tiftik)
Polska Mafia (by byk230)
Brembo (by Dziki)
RTC Superviseur (by Jimmy Renaud)
D2 Green (by Jose)
Tymbark Green (by Paul167)
Hoga.pl (by Paul167)
Tymbark Blue (by Paul167)
RMF FM (by Paul167)
Coca-Cola (by Paul167)
Honda Sport Team (by Viper)
Rallycross (by Viper)
Orange (by Paul167)
Black Orange (by Paul167)
Era GSM (by Paul167)
Ad blocker interference detected!
Wikia is a free-to-use site that makes money from advertising. We have a modified experience for viewers using ad blockers

Wikia is not accessible if you've made further modifications. Remove the custom ad blocker rule(s) and the page will load as expected.