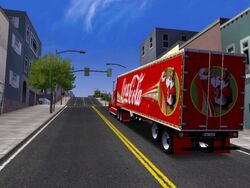 The Freightliner FLD 120 Classic XL is an add-on truck released by
HQTM Team
that is currently the most popular vehicle on
Midtown Madness 2 eXtreme
, with over 42,000 downloads since its release on April 13th 2004
[1]
. It features a trailer that uses a similar system to the
American LaFrance Fire Truck
and is suprisingly one of few trucks to do so.
In 1942, Freightliner Trucks was born, and went on to build some of the most iconic trucks to come from the US. In 1951, Freightliner started selling trucks through the White Motor Company, but after success in the 60's, the early 70's saw the demise of WMC and in 1974, Freightliner split to form its own private company. In 1981, the firm joined the Daimler-Chrysler group and sold rebranded versions of Mercedes-Benz vehicles. Unfortunately, these were not popular, so in the 1990's Freightliner developed its own line of medium duty vehicles. From 1995 to 2000, the company aquired many other brands of commercial vehicle. It was in this period that the
Freightliner Century
, Freightliner FLD 120 Classic XL,
American LaFrance Fire Truck
and
Silver Eagle Fire Truck
were produced. Between 2001 and 2005, Freightliner began selling marques it couldn't sustain, including LaFrance. In 2007, Freightliner was split, to form Daimler Trucks North America. Now, Freightliner deals in heavy-duty trucks, as well as a rebranded Mercedes-Benz Sprinter. They are also experimenting with battery packs supplied by Tesla Motors to produce an electric vehicle in the future.
Top Speed: 72 mph
Horsepower: 500 bhp
Mass: 20000 lbs
Durability: Very High
Available Colors
Edit
Red "Coca-Cola"
Blue
Brown
Black "Hummer"
The following are add-on colours, that can be downloaded from HQTM Team's website, and put into the game using MM2 Car Skin Changer:
Caterpillar (by Carboy717)
TvnTurboTruck (by nero)
Zblusowani (by nero)
Santafe (by Jose)
Okocim Palone (by Paul167)
KCP Team (by Paul167)
PEKAES (by Paul167)
Samoobrona (by Paul167)a
The dashboard view features an animated toy bear, playing the guitar.
The Black color scheme has an animated Hummer logo.
Inside the trailer on all 4 color schemes, is a three-eyed smiley-face and the words: "Have a nice end of the world". This is a reference to the film 'Evolution'
The trailer is very bouncy, especially if the truck gets crashed.
Ad blocker interference detected!
Wikia is a free-to-use site that makes money from advertising. We have a modified experience for viewers using ad blockers

Wikia is not accessible if you've made further modifications. Remove the custom ad blocker rule(s) and the page will load as expected.