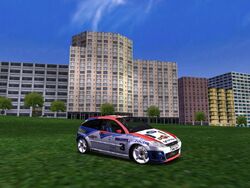 The Ford Focus RS is an add-on car availible for download on
Midtown Madness 2 eXtreme
[1]
. It was uploaded by
HQTM Team
on December 7th 2003, downloaded over 10,000 times.
The car features a detailed model with semi-transparent windows, 3D wheels, damage textures, breakable parts, seven different paint jobs (three normal paint jobs and four rally paint jobs), shadows, a realistic interior, realistic sounds, and a very realistic performance.
The Ford Focus has been produced by Ford Motor Company since 1998, as a compact family car. Introduced to replace the Ford Escort, the first generation Focus stayed in production until 2004 (Europe) or 2007 (North America). The second generation Focus went out of production in 2010 in Europe, and in 2011 in North America. The third generation Focus is still produced. All generation Focuses has been remade in many different versions, including the WRC rally car variant, and performance versions - the RS (HQTM's model is based on the first generation RS8), the ST, and more.
Top Speed: 144 mph
Horsepower: 230 bhp
Mass: 3227 lbs
Durability: Medium
Availible Colors
Edit
Blue
Red
Black
HQTM Orange
WRC McRae
WRC RS
WRC Jolly Club
The following are add-on colours, that can be downloaded from HQTM Team's website, and put into the game using MM2 Car Skin Changer:
Blue Fire (by Cihan Tiftik)
Alpine Speedfire (by Capek)
Tuned Yellow (by Jose)
Sewera Polska Che (by Paul167)
Heyah Red (by Kisiel)
Green (by Paul167)
Fire Black (by Dziki)
Ad blocker interference detected!
Wikia is a free-to-use site that makes money from advertising. We have a modified experience for viewers using ad blockers

Wikia is not accessible if you've made further modifications. Remove the custom ad blocker rule(s) and the page will load as expected.