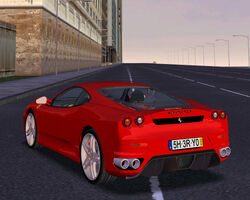 The 2005 Ferrari F430 is an add-on car available on Midtown Madness 2 eXtreme[1]. It was made from scratch by SheryO and converted to Midtown Madness 2 by Midtown Madness 2 Riva. It is currently the most popular car on the site (and the second most popular vehicle, behind the Freightliner FLD 120 Classic XL), since it was uploaded on July 5th 2006.
The car features a detailed model with 4 colour-schemes, breakable parts, a dashboard made by EuropaCar, realistic sounds and performance, and unique xenon lights.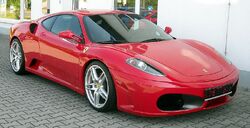 The Ferrari F430 was introduced in 2004 to replace the popular Ferrari 360, with a more refined and faster sports car. The car was more aerodynamic than its predecessor, while some parts, such as the taillights and interior, were taken straight from the rare
Ferrari Enzo
. The front of the car took inspiration from some of Ferrari's classic racecars, such as the
Ferrari 250 GTO
. The car was also available in convertible 'Spider' models, as well as the exclusive '430 Scuderia' trim, which was released in 2007 and revealed to be the fastest Ferrari currently on sale. Production ended in 2009 to make way for the new
Ferrari 458 Italia
.
Top Speed: 196 mph
Horsepower: 483 bhp
Mass: 3197 lbs
Durability: Low
Available Colours
Edit
Racing Red
Fly Yellow
Black Daytona
Grey Silverstone