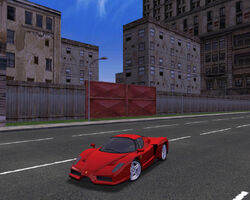 The Ferrari Enzo is an add-on car availible for download at
Midtown Madness 2 eXtreme
[1]
. It was scratch made by Kpj and converted in-game by
Midtown Madness 2 Riva
. The car was uploaded on April 7th 2005, and has been downloaded over 34,000 times.
The car features a great 3D model with 10 different paint jobs, damage textures, breakable parts, realistic lights, a 2D dashboard, animated wipers (in the rain), realistic sounds and a great peformance.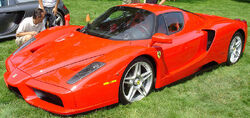 The Enzo, named after the founder, was established to commemorate Ferrari's first formula one title of the new millennium. It was built in 2002 using Formula 1 technology, such as a carbon-fibre body, F1-style electohydraulic shift transmission, and carbon-fibre-reinforced Silicon Carbide (C/SiC) ceramic composite disk brakes. Also used are technologies not allowed in F1 such as active aerodynamics and traction control. It stayed in production until 2004, and 400 were built. It served as a base model for 2010's
Ferrari 458 Italia
. The successor, the Ferrari F70, has now been announced.
Top Speed: 220 mph
Horsepower: 651 bhp
Mass: 3009 lbs
Durability: Very Low
Availible Colours
Edit
Rosso
Corsa
Prugna
Nero
Nurburgring
Titano
Giallo
Biu Sera
Blu Medio
Rossonero
Ad blocker interference detected!
Wikia is a free-to-use site that makes money from advertising. We have a modified experience for viewers using ad blockers

Wikia is not accessible if you've made further modifications. Remove the custom ad blocker rule(s) and the page will load as expected.