The Ferrari 599 GTB Fiorano is an add-on car availible for download at Midtown Madness 2 eXtreme. It has been downloaded over 2,000 times, and was uploaded by Midtown Madness 2 Riva on October 4th 2010 [1]. It was converted from the model used in Need for Speed: Shift.
The car features a detailed model with transparent windows, 3D wheels, damage textures, 10 different paint jobs, a realistic interior, realistic sounds, and a great tuning and performance.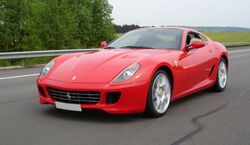 In 2006, the Ferrari 599 GTB Fiorano was created. It is the brand's two seat flagship, replacing the 575M Maranello. Like all recent Ferrari models, it was desgined by Pininfarina, and it uses a 6.0-litre V12 engine similar to the one found in the
Ferrari Enzo
, but a
Tipo F140C
, unlike the
Tipo F140B
in the Enzo. It produces 612bhp, making it the most powerful Ferrari in production at the time, and giving the car a top speed of 205mph. In 2009, Ferrari unveiled the 599XX, a track use only car based on the 599 GTB Fiorano. Later in 2010, the 599 GTO was introduced - being the third Ferrari in history to use the 'GTO' name, the first was the
250 GTO
, then the 288 GTO. The 599 GTO was a road-legal version of the 599XX, but despite the previous GTO models, it was never intended to go racing. The replacement for the 599 series has been announced, namely the Ferrari F12 Berlinetta - this will use the 6.3-litre V12 from the Ferrari FF four-seater, be able to hit 211mph, and probably go on sale in early 2013.
Top Speed: 205 mph
Horsepower: 612 bhp
Mass: 3721 lbs
Durability: Low
Availible Colours
Edit
Modena
Avus
Scuderia
Titanium
Tour de France
Ingrid
Mugello
Nurburgring
California
Nero
Ad blocker interference detected!
Wikia is a free-to-use site that makes money from advertising. We have a modified experience for viewers using ad blockers

Wikia is not accessible if you've made further modifications. Remove the custom ad blocker rule(s) and the page will load as expected.