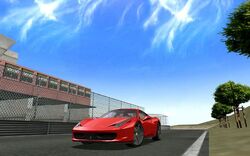 The Ferrari 458 Italia is an add-on car availible for download at
Midtown Madness 2 eXtreme
. It has been downloaded over 8,000 times, and was uploaded by
Midtown Madness 2 Riva
on August 5th 2010
[1]
. It was converted from the model used in Forza Motorsport 3.
The car features a detailed model with transparent windows, 3D wheels, damage textures, 10 different paint jobs, a realistic interior, realistic sounds, and a great tuning and performance.
The Ferrari 458 Italia was created in 2010 to replace the
Ferrari F430
as a successor, but arising from an entirely new design, designed by Pininfarina (as with all recent Ferrari models), and incorporating technologies developed from the company's experience in Formula 1. The car's interior was designed using input from former Ferrari Formula 1 driver Michael Schumacher, including a new steering wheel design which incorporates many features and controls as opposed to their being on the dashboard, similar to racing car designs. Additionaly, the 458 Italia's design has drawn inspiration from the
Ferrari Enzo
supercar. The 458 Spider (a convertible version) was unveiled in 2011, and recently, a few Ferrari 458 Italia GTCs have been entered for the Le Mans 24 Hour race.
Top Speed: 202 mph
Horsepower: 562 bhp
Mass: 3274 lbs
Durability: Very Low
Availible Colours
Edit
Scuderia
Corsa
Modena
Avus
Nero
Alloy
Silverstone
Ingrid
Tour de France
Mirabeau