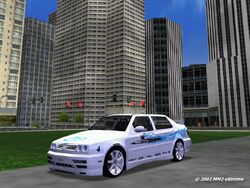 This is an add-on car availible for download from
Midtown Madness 2 eXtreme
, using the model of the Volkswagen Jetta from the Fast and Furious movie
[1]
. It was uploaded by DjDecibel and DjNitrtoRx on January 27th 2003, and has been downloaded over 33,000 times.
It has a good-looking 3D model, semi-transparent windows, a 3D interior with Sparco seats, good textures with the one paint job from the movie and damage textures, a good dashboard, scratch-made sounds, and a very realistic tuning.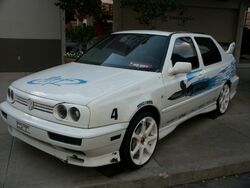 Volkswagen Jetta
Edit
The Volkswagen Jetta is a small family car produced by Volkswagen since 1979. It was positioned to fill a saloon/sedan niche above the firm's Golf hatchback, and has been marketed over six generations variously as the Atlantic, Bora, City Jetta, Jetta City, Fox, GLI, Jetta, Sagitar, and Vento. Over 10 million Jettas has been built. The first generation (A1) was made from 1979 till 1984, the second gen (A2) was made from 1984 till 1992, the third gen (A3), was made from 1992 till 1999, the fourth gen (A4) was made from 1999 till 2005, and the fifth gen (A5) was made from 2005 till 2010. The sixth generation (A6) has been produced since 2010.
Fast and Furious
Edit
The Fast and the Furious was released on DVD on January 2, 2002. A second print known as the Tricked Out Edition was released on June 3rd 2003. A sequel, 2Fast 2Furious, was released on September 26th 2006, while The Fast and the Furious: Tokyo Drift was released on July 28th 2009. Many modified sports cars are featured in the films, and many have been released for Midtown Madness 2 download, the most notable being the Volkswagen Jetta, Toyota Supra, and Mitsubishi Eclipse.
Stats (Fast and Furious car)
Edit
Top Speed: 160 mph
Horsepower: 250 bhp
Mass: 3334 lbs
Durability: Medium
Availible Colours
Edit
Ad blocker interference detected!
Wikia is a free-to-use site that makes money from advertising. We have a modified experience for viewers using ad blockers

Wikia is not accessible if you've made further modifications. Remove the custom ad blocker rule(s) and the page will load as expected.