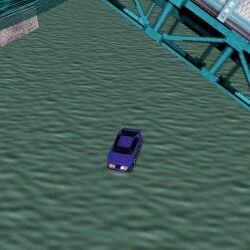 The Drive On Water Mod does exactly what its name says. It replaces the water material in all cities with a solid texture, that allows players to drive on the water itself. This allows many new areas to be accessed, such as Battersea in London and Marin county in San Francisco, although these rarely feature any roads, as they were never intended to be visited during the game's development.
It was released on Midtown Madness 2 eXtreme by dummiesboy on November 26th 2008[1], who also created MM2 Revisited. Although this mod works well with MM2 Revisited V3, V4 creates several patches in the two main cities where normal water will appear. These appear at the far ends of the River Thames and under the Golden Gate Bridge.
Ad blocker interference detected!
Wikia is a free-to-use site that makes money from advertising. We have a modified experience for viewers using ad blockers

Wikia is not accessible if you've made further modifications. Remove the custom ad blocker rule(s) and the page will load as expected.