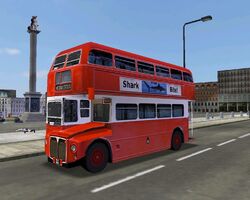 The Double-Decker Bus is a standard vehicle. It is unlocked by default. It is based on the real-life AEC Routemaster. In HQTM Team's Classic Madness mod, it is replaced by the AEC Regent RT 191, the AEC Routemaster's predecessor.
The Double-Decker Bus was just known as the "London Bus" in early betas of the game, and had the words "London Transport" written on the sides of the bus.
The AEC Routmaster has been the typical London double-decker since it was introduced in 1956 by London Transport to replace the Leyland Titan and AEC Regent RT 191. Although they were only produced between 1959 and 1968, the Routemaster remained in public service until 2005, when they were restricted to tourist routes and replaced by more modern buses. This is due to the Routemaster's innovative design, which long outlasted other busses produced during its service. A new Routemaster hit London streets in 2012.
Top Speed: 100 mph
Horsepower: 115 bhp
Mass: 16464 lbs
Durability: Very High
In-Game Description
Edit
Lots of durability, but don't expect it to corner like a Mini Cooper!
Available Colours
Edit
The picture on the Vehicle Showcase screen shows the Double-Decker Bus model from the game rendered onto a real life background. This also applies to the City Bus, the Light Tactical Vehicle and the London Cab since they are fictional vehicles.
It is one of four vehicles that crashes into curbs while driving, along with the Panoz GTR-1, the VW New Beetle RSi and the Aston Martin DB7 Vantage. However, this problem can be prevented by downloading the Curb mod.
Ad blocker interference detected!
Wikia is a free-to-use site that makes money from advertising. We have a modified experience for viewers using ad blockers

Wikia is not accessible if you've made further modifications. Remove the custom ad blocker rule(s) and the page will load as expected.