The Citroën 2CV is a car released in
HQTM Team
's
Classic Madness
mod. It replaces the
New Mini Cooper
and keeps its name and colour names on the car selection screen, as the mod was never finished (the showcase contains the correct name for the vehicle). It is unlocked through completing 5
London
Blitz
events.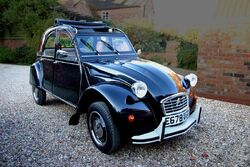 The 2CV started life as the relatively basic Citroën TPV prototype in 1936, which had a trial run in mid-1939, shortly before the dawn of World War II. Work on the car finally resumed after the war, and the Citroën 2CV was revealed in Paris in late 1948. Although the car underwent many minor design changes (such as a new front cowl in 1960, and rectangular headlights in the 1970's), the 2CV remained in production until 1990, after becoming an icon within the French motor industry.
Top Speed: 73 mph
Horsepower: 29 bhp
Mass: 1200 lbs
Durability: Low
Available Colours
Edit
Ad blocker interference detected!
Wikia is a free-to-use site that makes money from advertising. We have a modified experience for viewers using ad blockers

Wikia is not accessible if you've made further modifications. Remove the custom ad blocker rule(s) and the page will load as expected.