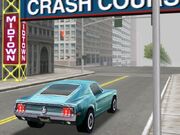 "Brake Dancing" a lesson in the San Francisco Crash Course. The challenge involves racing between checkpoints at alternating ends of a road in the Russian Hill area of the city, teaching the player how to perform handbrake-turns. A similar task takes place in the Final Exam, while J-turns are taught in About Face.
Ad blocker interference detected!
Wikia is a free-to-use site that makes money from advertising. We have a modified experience for viewers using ad blockers

Wikia is not accessible if you've made further modifications. Remove the custom ad blocker rule(s) and the page will load as expected.