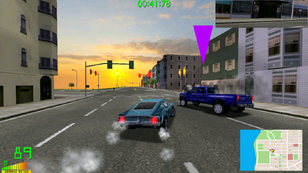 "Bonnie & Collide" is one of the events in the San Francisco Crash Course. You need to destroy a Ford F-350 before the clock strikes zero. There are some checkpoints located close to the Golden Gate Bridge and in the southeastern part of town, but unlike all the other lessons, they do not contribute to this lesson in any way. After destroying the opponent-driven vehicle, the challenge will be complete. A similar challenge is seen at the start of Midterm 2.
Ad blocker interference detected!
Wikia is a free-to-use site that makes money from advertising. We have a modified experience for viewers using ad blockers

Wikia is not accessible if you've made further modifications. Remove the custom ad blocker rule(s) and the page will load as expected.