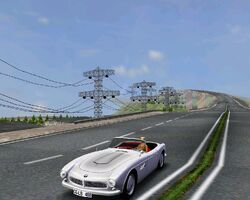 The BMW 507 is a car released in HQTM Team's Classic Madness mod. It replaces the VW New Beetle RSi.
The BMW 507 was originally concieved by Max Hoffman, an American importer of European cars, famous for his work on the Porsche 356 Speedster, who believed that BMW could fill a gap in the automotive market by producing a roadster version of their BMW 501 luxury saloon, that was faster than Britain's underpowered Triumph and MG sports cars. The results were the BMW 503 and 507, two powerful supercars, which went on sale in 1956 to international praise and recognition, but were ultimately overshadowed by their competitor - the Mercedes-Benz 300 SL. Since then, the 507 has influenced BMW's Z series of cars, particularly the BMW Z8, which keeps closely to the original styling of the 507.
Top Speed: 122 mph
Horsepower: 150 bhp
Mass: 2900 lbs
Durability: Low
Available Colors
Edit
Ad blocker interference detected!
Wikia is a free-to-use site that makes money from advertising. We have a modified experience for viewers using ad blockers

Wikia is not accessible if you've made further modifications. Remove the custom ad blocker rule(s) and the page will load as expected.