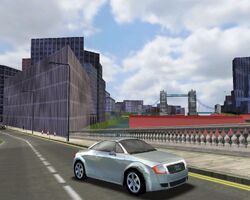 The Audi TT is a standard car in Midtown Madness 2. It returns in Midtown Madness 3, as one of the fastest vehicles in the game. In HQTM Team's Classic Madness mod, it is replaced by the Porsche 356 Speedster, as Audi did not exist in its modern format until 1970.
How to Unlock
Edit
The Audi TT is unlocked by completing 6 San Francisco Checkpoint races with a podium position.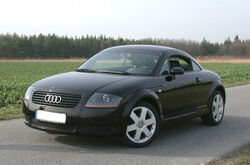 The Audi TT was designed by Volkswagen in 1994, as Audi's new lightweight sports coupe. In 1998, it was finally released to international praise. In addition to convertible Roadster models, Audi also introduced the quattro line, a series of 4-wheel drive performance models. In 2006, the second generation TT was released, with futuristic styling and advanced technological features. In addition to the Roadster and quattro, this new lieup included the TT S and TT RS, futher performance models that turned it into the powerful street machine on sale today.
Top Speed: 147 mph
Horsepower: 180 bhp
Mass: 2655 lbs
Durability: Low
Available Colours
Edit
Aviator Grey
Denim Blue
Amulet Red
Desert Green
Big Kitty (unlocked though victory in all San Francisco Checkpoint races)
Wing Cho! (originally cut from the game, but made available through use of MM2 Revisited)
Jelly's Car Conversions
Edit
Jelly released a high quality Audi TT model for Midtown Madness 2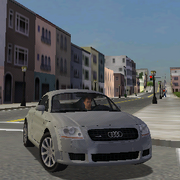 The colours Aviator Grey and Big Kitty are noticacibly less shiny than any of the other colours available.
The car features all-wheel steering, as the rear wheels turn when the car is steered.
The Vehicle Showcase says that it is a Coupé model.
It has very strong brakes.
Ad blocker interference detected!
Wikia is a free-to-use site that makes money from advertising. We have a modified experience for viewers using ad blockers

Wikia is not accessible if you've made further modifications. Remove the custom ad blocker rule(s) and the page will load as expected.