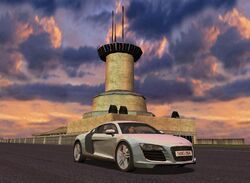 The 2006 Audi R8 is an add-on car availible for download at
Midtown Madness 2 eXtreme
. It has been downloaded over 14,000 times, and was uploaded by
Midtown Madness 2 Riva
on December 25th, 2007
[1]
.
The car has a realistic, scratch-made model with semi-transparent windows, damage textures, a 2D dashboard with a night version, a new realistic shadow texture, seven paint jobs (plus three fantasy ones), three texture packs with body print available in 2048x1024, 1024x512 and 512x256 format but also by default. Lastly, a carbon choice is available (like the paint jobs choice).
The Audi R8 is a sports car created by quattro GmbH (a private subsidiary of Audi), based on the Lamborghini Gallardo platform. The R8 was designed to celebrate Le Mans victories of the Audi R8 racing car. While the original 4.2L V8 Audi R8 is capable of 187mph and 414bhp, the newer 5.2L V10 version is capable of 196mph and 518bhp. Both versions of the R8 are also available in Spyder (convertible) vesions; the R8 V10 also spawned a GT version (as well as a Spyder version of that itself). About 10,000 Audi R8s have been built - it is comfortably the fastest and most powerful road car of the company.
Top Speed: 187 mph
Horsepower: 414 bhp
Mass: 3439 lbs
Durability: Low
Availible Colours
Edit
Ice
Ibis
Daytona
Brillant
Jet
Mugello
Phatom
Black
Blue
Red
Ad blocker interference detected!
Wikia is a free-to-use site that makes money from advertising. We have a modified experience for viewers using ad blockers

Wikia is not accessible if you've made further modifications. Remove the custom ad blocker rule(s) and the page will load as expected.