The Aston Martin DB7 Vantage is a standard vehicle that is unlocked through completing the Final Exam in the London Crash Course. It is one of the fastest cars in the game, behind the Panoz GTR-1. In HQTM Team's Classic Madness mod, it is replaced by the classic Aston Martin DB5.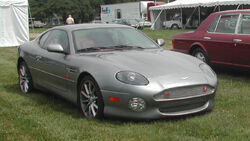 The Aston Martin DB7 was introduced in 1994 to add a coupe to the brand's lineup alongside the V8 Vantage muscle car. The vehicle was designed with huge influence from Jaguar (hence the similarities to the Jaguar XK-8 of the era), while also taking styling cues from the DB series of the 1950's and 60's (particularly the Aston Martin DB5). The Aston Martin DB7 Vantage was introduced in 1999, as a higher-end performance model, which housed a powerful V12 engine. In 2002, further performance models - the V12 GT and GTA - were released, before design house Zagato released their own version in 2002. In 2004, the DB7 ceased production, to be followed by the beautiful Aston Martin DB9, and subsequently, the new DBS which starred in 2006 James Bond film Casino Royale. Aston Martin have also produced Vanquish and Vantage models, as well as the four-seat Rapide and super-fast One-77, as well as the DBR9 and DBRS9 racecars.
Top Speed: 178 mph
Horsepower: 420 bhp
Mass: 3913 lbs
Durability: Low
Available Colours
Edit
Islay Blue
Southerland Red
Mendip Blue
Chiltern Green
Scorcher
The DB7 uses the wrong drivetrain in the game. It is set as a front-wheel drive instead of a rear-wheel drive.
Due to the shape of its BOUND, the DB7 has a tendency to hit curbs, usually from the front.
Coincidentally, it's sound files were misspelt as Austin. Austin-Healey was a British sports car maker founded in 1952.
Ad blocker interference detected!
Wikia is a free-to-use site that makes money from advertising. We have a modified experience for viewers using ad blockers

Wikia is not accessible if you've made further modifications. Remove the custom ad blocker rule(s) and the page will load as expected.