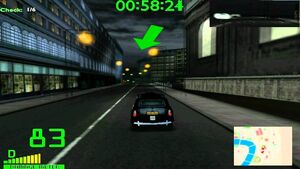 "Artful Dodging" is a crash course lesson in the
London
Crash Course
. In this lesson, you have to escape a group of "fans," who act like police cars to take down your
London Cab
. Instead of the normal
Ford Mustang Cruisers
, a regular
Ford Mustang GT
, an
Aston Martin DB7 Vantage
and an
Audi TT
are used as pursuit vehicles. Players are advised to use their rear-view mirrors by hitting the backspace key. To complete the challenge, you have to reach the final checkpoint, with no remaining pursuers (or no pursuers near you). A similar event, "
The Heat Is On
," appears in the
San Francisco
Crash Course, while the "fans" return in London's
Midterm 3
.
In the early beta versions, a couple pursuit cars are missing, making this lesson easier to finish.
This is the only event that cannot be completed with the Classic Madness installed, as this game will have immediately crashed of Fatal Error due to half traffic density.