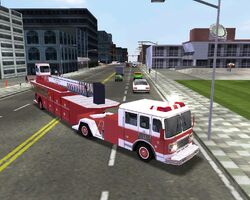 The American LaFrance Fire Truck is a standard vehicle unlocked through completing 5 San Francisco Blitz events. It is the only default vehicle in Midtown Madness 2 to have a trailer (unlike Midtown Madness 1 where the Freightliner Century actually had a flatbed trailer attached to it) and shares the same cab as the cut Silver Eagle Fire Truck, which is essentially a trailer-less version of this vehicle. In early betas of the game, this truck is known as the Frieghtliner Fire Truck (When you unlock this truck in the final version of the game, it will still say that you have unlocked the Freightliner Fire Truck). In HQTM Team's Classic Madness it is replaced by the older American LaFrance Type 700.
American LaFrance has been producing fire-fighting equipment since 1873 and fire engines since 1903. Over the years, it has made many different types of firefighting vehicles, from airport crash turcks to aerial ladders trucks, such as the American LaFrance Type 700 of the 1950's. In 1995, Freightliner bought out American LaFrance, along with other commercial vehicle brands. It was in this period that the Freightliner Century, Freightliner FLD 120 Classic XL, American LaFrance Fire Truck and Silver Eagle Fire Truck were produced. In 2005, rights to LaFrance were once again sold to Patriach Partners, who still used the same plant, until DaimlerChrysler started using it as an assembly line for the Dodge/Freightliner Sprinter, a rebranded Mercedes-Benz Sprinter. In early 2008, American LaFrance was filed for bankruptsy, but recovered later that year under a new initiative to spread the vehicles' production across the US.
Top Speed: 109 mph
Horsepower: 500 bhp
Mass: 61740 lbs
Durability: Very High
Available Colors
Edit
Red
Yellow
Green (unlocked through completion of all San Francisco Blitz events)
Dalmation
Watch the trailer wheels. MM2 introduces multi-wheel steering, which could be why the Freightliner Century didn't have a trailer in the second game).
Oddly, the green color is the unlockable color for the American LaFrance Fire Truck instead of the Dalmation color.
Interestingly, all the cars unlocked from completing races in San Francisco all have an animal themed color. The exception being the Light Tactical Vehicle.
When converted back to Midtown Madness 1's format, the truck's trailer didn't work properly, so it was later made as a "Beta" addon vehicle for the game instead of the Silver Eagle Fire Truck.
Ad blocker interference detected!
Wikia is a free-to-use site that makes money from advertising. We have a modified experience for viewers using ad blockers

Wikia is not accessible if you've made further modifications. Remove the custom ad blocker rule(s) and the page will load as expected.