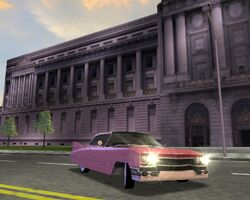 The 1959 Cadillac Eldorado is a car that was originally intended to be included in Midtown Madness 2, but was cut from the game due to copyright issues. This vehicle can still be used with the help of the MM2 Revisited mod or by downloading it as a separate .AR file from The Midtown Madness Archive [1]. Some voice clips based on it have been recorded but are also unused.
The 1959 Cadillac Eldorado also makes an appearance as a playable and unlockable vehicle in Midtown Madness 3.
This vehicle will be featured in an upcoming version of the infamous Steir mod.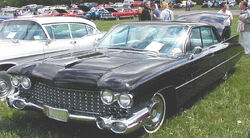 The first Cadillac Eldorado started out in 1953, as a low-production convertible model. It recieved a minor facelift in 1955, and given hardtop models, but the main update was in 1959, when the car underwent a massive redesign. The resulting product was the 1959 Cadillac Eldorado, one of the most iconic cars of its time and the most famous Cadillac ever built. 1966 saw the next redesign, turning it from an extravegant luxury land-yacht to a powerful muscle car. 1971's model returned to the luxury limousine idealogy, before in 1979, it was made into a more affordable machine. In 1986, the car's edges were rounded to give it a more modern look, before 1992, when it underwent its final redesign. Performance models of this eighth-generation model were sold as the
Cadillac Eldorado Touring Coupe
, which is the model used in Midtown Madness 2 and the Eldorado Sport Coupe. The early 2000s saw the demise of the Eldorado and in 2002, production ceased completely.
Top Speed: 115 mph
Horsepower: 345 bhp
Mass: 4949 lbs
Durability: Low
Available Colors
Edit
The colors are named differently in different releases of this car.
MM2 Revisited:
Flamingo Pink
Aquamarine Blue
Pastel Green
Cream Yellow
Tiger (possibly intended to be an unlockable paint job during the game's development)

HPB_Forever's Version:
Flamingo Pink
Sky Blue
Pea Green
Winter White
Frosted Flakes
Classic Madness
Edit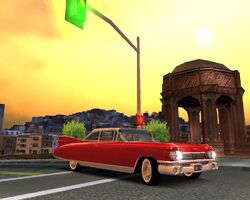 In
HQTM Team
's
Classic Madness
mod, the 1959 Eldorado replaces the standard
Cadillac Eldorado
. The new car has been given a highly-detailed model and "realistic" performance, so it is significantly slower than both of its older models. Also, it uses an entirely new set of colors:
Seminole Red
Ebony Black
Agryle Blue
Persian Sand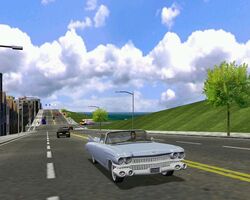 On January 10th 2012, the 1959 Cadillac Eldorado was included in The
Midtown Madness 2 Riva
mod
[2]
, with the model converted from
Driver: San Francisco
. The newest model is of a similar quality to the Classic Madness model, but is a convertible rather than a hardtop model. It also comes with 10 new colors.
Ad blocker interference detected!
Wikia is a free-to-use site that makes money from advertising. We have a modified experience for viewers using ad blockers

Wikia is not accessible if you've made further modifications. Remove the custom ad blocker rule(s) and the page will load as expected.